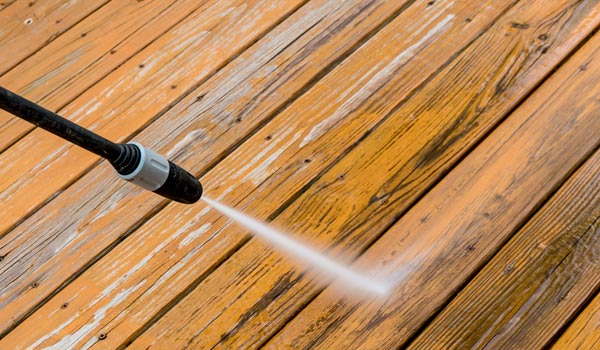 Have you noticed your sidewalk or driveway isn't looking as great as it used to? It can be difficult to properly maintain your sidewalk, driveway or pavement on your own. Squeeky Clean Windows & Janitorial has the expertise to pressure and power wash any surface in the Bakersfield, Taft, Tehachapi, Delano, and Shafter, CA areas.
Pressure washing services can be used to clean up oil, mildew or built-up dirt stains on almost any surface. Pressure washing can even remove graffiti from garage doors, brick and sidewalks. Unwanted marks from vandalism can be devastating and unattractive to look at. Let Squeeky Clean Windows & Janitorial provide you with the ultimate pressure washing services so you won't have to deal with the aftermath of graffiti on your own.
Since 2002, Squeeky Clean Windows & Janitorial has been the place to go for all your pressure washing needs. Don't wait to let the dirt build up on your wall or driveway just count on the professionals to clean it for you. With pressure washing, you can not only clean graffiti you can clean up your curb. Power washing can turn an old tarnished porch, walkway, patio or sidewalk and make it look brand new again. When you maintain your surfaces with power washing you can improve curb appeal and increase your home's value. Cleaning up your walkway with power washing is a great way to make your curb stand out something to keep in mind especially if you're planning on moving.
Squeeky Clean Windows & Janitorial is the most reliable place to go to for all your pressure and power washing needs in the Bakersfield, CA area. We know that the value of your home, business or driveway can be enhanced with quality power washing. When you invest in the aesthetic maintenance of your curb it shows that you truly care about the way your curb looks. With our services you can power wash your way into a curb that you can be proud of.
Instead of attempting to manually clean your own curb let the professionals at Squeeky Clean Windows & Janitorial do it for you, saving you valuable time and effort. We have built a reputation for excellence and it shows through our work. When you are in need of a dependable company to take your cleaning to the next level count on us. With our services you can guarantee that we will power wash away any old debris, dirt, mildew, algae or painted on mess that is destroying the look of your curb. Whatever your cleaning service needs, whether it's pressure washing, janitorial maintenance, or dryer vent cleaning, Squeeky Clean Windows & Janitorial has you covered. Contact us today!